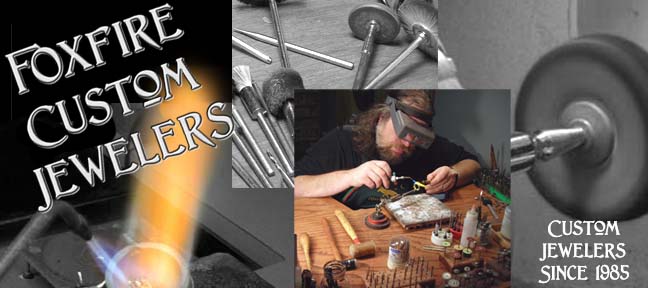 ---

Signet or Seal Rings


The wearing of signet rings is a tradition among European nobility, and stretches back to the Roman Empire and beyond. A signet ring is one which may be used to create a wax impression, or seal, to close an envelope or sign a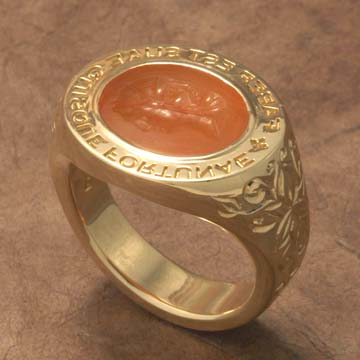 document, in a secure, not easily copied way. Signet rings would often have a crest or arms of a knight's family, or initials, or a portrait, or a personal symbol and/or motto. Portraits or crests were often cut from a gemstone such as carnelian or onyx, or engraved directly in the metal of the signet ring.



Wearing a signet ring is a symbol of power, and sentimentality, and often family identity. It can also indicate interests or hobbies, or membership in an organization. Signet rings are sometimes created as awards in the business world, to commemorate years of employee service, or goals met.



At Foxfire Design Studio we create a custom signet rings in any shape, form and with any motif you choose. Gentleman's, Ladies' Signet rings, Signet rings in 14K, 18K, yellow or white gold, platinum, palladium, and/or with stone seals custom cut of carnelian, onyx, lapis lazuli, or other stones. We can create signet rings using CAD/CAM design, but often combine the high tech with the old world art of hand engraving.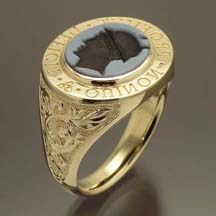 Our Artists will be happy to develop the design with you, and can quote an exact cost once the design has been determined. You will be asked to provide all available artwork for your symbol, crest or initials, that are to be used, or we can create a new design from your description. The designer will be happy to advise you on what level of detail can be achieved in the actual ring. Foxfire can create signet rings with or without gemstones.

We are pleased to offer custom engraved gemstone seals. These are hand carved in Germany, where master craftsmen follow a centuries old tradition of fine craftsmanship, so they are exquisite and beautiful.

We recommend opaque gemstones such as Carnelian, Bloodstone, Lapis Lazuli, Jade, Black Onyx, and Tigereye. It is also possible to do a carving on transparent faceted gemstones such as Amethyst, Garnet or Citrine, although this is a very different look, and may be unsuitable for a signet ring due to style and durability.

Gemstone carving prices range from around $500 for a simple initial, to $1,800 and beyond for faces, coat of arms, etc. The process takes about 6-12 weeks depending on complexity and shipping through customs.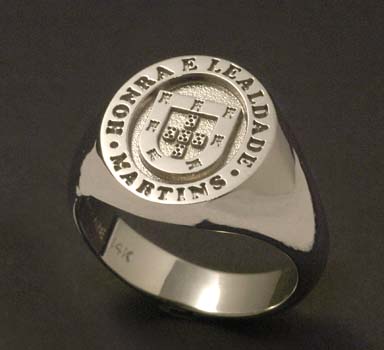 Once the stone has been completed, or if no gemstone is to be used, we can start work on the metal portion of the ring. We offer a choice of precious metals: Platinum, Palladium (a platinum group metal), 18 Karat Yellow Gold, 14 Karat Yellow Gold, 14 Karat X-1 White Gold (a superior white gold alloy, very white), 14 Karat Palladium White Gold, 14 Karat Red Gold, 14 Karat Green Gold, and Sterling Silver.

The metal work for a signet ring generally ranges from $1,500 and up in 14K Gold, and the process takes 8-10 weeks. We can do all types of lettering, symbols, devices on the top and sides of the ring, plus engraving on the inside or outside. Sterling Silver starts around $500.

We do a wide variety of creative custom work for clients, drawing on whatever technique is most appropriate from Old World hand engraving to cutting edge CAD/CAM computer design.



Visit our Signet Ring Gallery: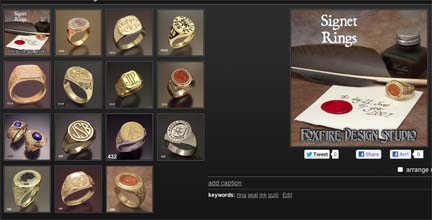 FREQUENTLY ASKED QUESTIONS ABOUT CUSTOM DESIGN
---

Q. Where do I go from here?

A. Get a Quote or Ask a Question.

Copyright © 2012. Foxfire Jewelers Limited all rights reserved