We hear this question quite often. In many cases you will be pleasantly surprised to find out that quality custom jewelry can be had for less than the price of a big name designer ring, and the quality surpasses that of mass produced items.
Custom Jewelry, by it's very definition, is unique and made specifically for your exact desires and expectations. Here we will give some examples to show a general range of how items compare in price.
---

Here is a simple yet elegant ring with three emerald cut gemstones, supplied by the customer. This ring was made to exactly fit the customer's stones, so it is one of a kind. A ring like this would be around $1,400. in 14K white or yellow gold, or $2,400. in platinum, or $500. in Sterling.
This will include most wedding bands with symbols, lettering, or standard celtic knots.
Examples of rings in the $1,400. to $1,650 range, not including stones:




---

This ring is a bit more complex, requiring additional labor and skills. A custom ring similar to this one would be about $1775. in 14 karat gold, or $2600 in platinum, or $900 in sterling silver not including gemstones.
Generally adding either complexity - or - heaviness to a custom ring will increase it's cost. So labor for more gem setting, complex designs, and hand engraving will add to the cost, but often make a more beautiful ring.
Some examples of rings in the $1,500. to $2,300 range, not including stones:



---

Of course we also make other jewelry such as pendants and earrings.
This pendant was made using the customer's choice of a Kanji Japanese language symbol, and we can make just about any symbols you might like. Expect to pay around $900. for a pendant like this in 14 karat gold, or $450. in sterling silver.
We can create custom jewelry to fit your gemstones, or with any symbol or logo you need. We also do multiple runs of custom pieces for your company, club, or family.
We can set your ancient or contemporary coins in a custom made setting which will complement it perfectly.




Sterling silver offers a great choice for jewelry. It has a soft glow and recessed areas will oxidize to a dark gray with age or we can antique them when making the custom jewelry.
Most custom jewelry in sterling silver will cost between $300. and $900.
A few custom jewelry creations in sterling silver:



---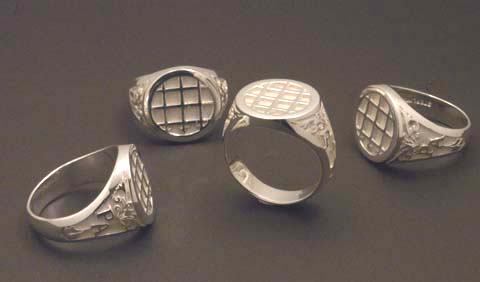 We can also create multiple items for orginizations, families, or companies. These rings for a gentleman's club were made in sterling silver. The model was $650. and each ring after that was only $200.
Pendants, or key chains with your logo could be as little as $60. each after the initial model.
---