---
The Development of a Jewelry Design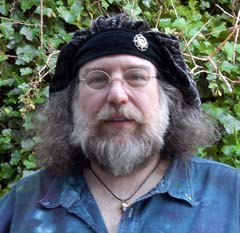 People sometimes ask "where do you get your ideas for jewelry?"
I steal them, of course. Not from other jewelers or artists, but from the lines of trees and plants, the squiggles of clouds, craggy bluffs and mountains and from ancient cultures and motifs.

Here I will trace the development of one such design from its ancient inspiration through my several modern interpretations.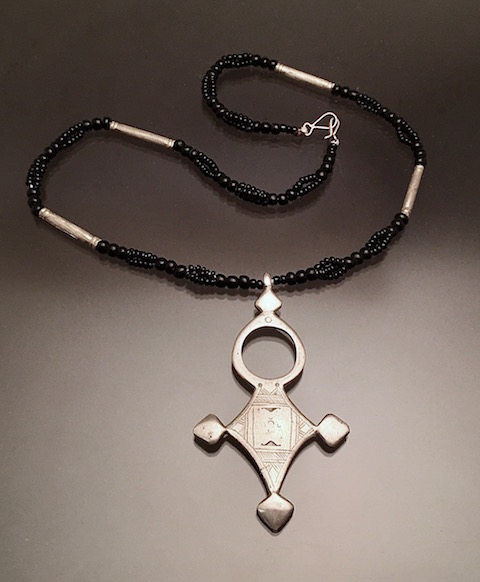 This photo shows an Agades cross, a form of folk ornament found among the peoples of North Africa. Usually made of silver with stamped or engraved patterns, the derivation of this design is unknown, its meaning lost in antiquity.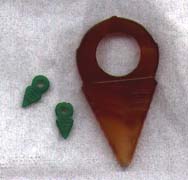 My personal theory is that it was derived from the Talhakimt, an ornament found in the region which produces the Agades cross. Talhakimt were originally produced in Carnelian and other agate stones by the local peoples, and were eventually copied for trade purposes by Europeans in Agate, glass and even plastic. Since agate is a hard stone and sometimes used to form arrowheads and spear points, my theory is that this is how these ornaments developed. After all, to the Stone Age cultures the spear or arrow point is a powerful symbol and a result of their highest technology. It is only natural that the arrowhead developed into the Talhakimt which became the Agades cross.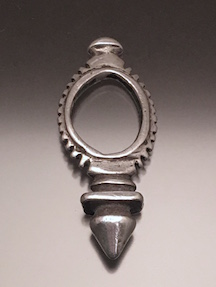 There is even one North African metal ornament in my collection which seems to almost bridge the gap. It is called a Zinder and is one of the crosses of Niger. I've carried one on my keychain for well over 20 years.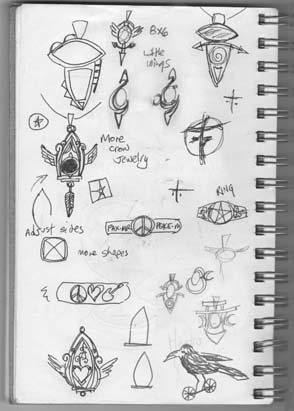 Now the development of a new design generally does not start with me sitting down with one of these artifacts and thinking about how I can adapt the design.

Rather, the way of it is that I own a number of these types of objects and antiquities and books and publications about them. Lets say that I am aware of ancient, traditional and ethnic design and embellishment, and carry these into my work.

I can often be found listening to music, with a sketch book in hand, just scribbling away.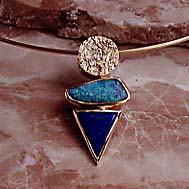 I suppose I was trying to design a piece with a triangular lapis Lazuli and an opal and thinking about how to attach a chain up above, without doing it the way it's always done, with a pendant bail or a jump ring. I came up with a disk, textured and thick enough for a chain to pass through. See photo at left.

A couple of years later I was toying with this idea again, when I thought of the Agades cross design. Why not add a couple of triangles like the ancient design? Then a cross piece to break up the circle and triangle. Another pendant was born ...




As I was looking at this pendant later, I thought combining the design with some moonstone carved faces I had gotten a hold of. I had already used a moonstone face with a plain cross piece and faceted gemstone down below in a very nice custom designed pendant shown here.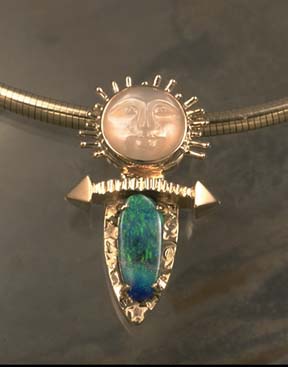 I figured that adding the triangles on the ends would be kind of like hands, or like arrows representing directions. The first of my Shaman series was created .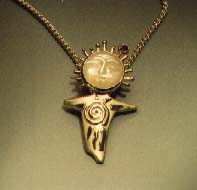 From there I went wild! I thought about different stones, no stones at all, fossils, different hair and halo effects and even created some without the arrow cross piece.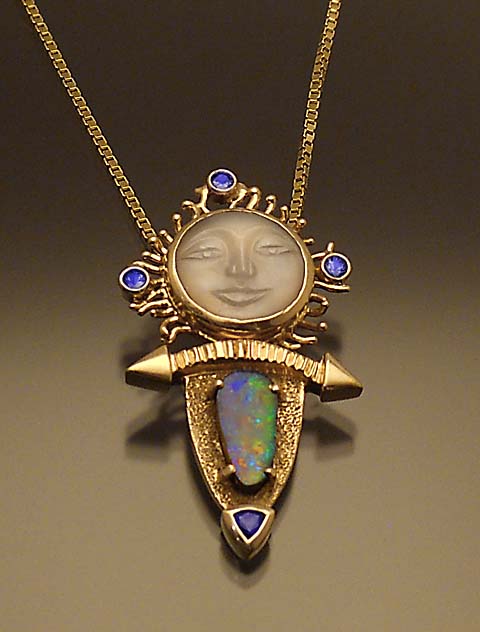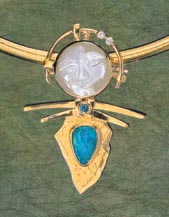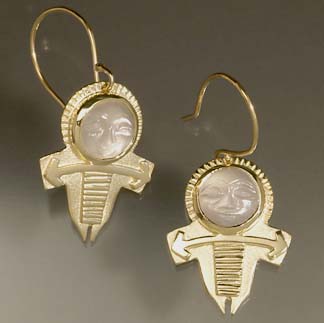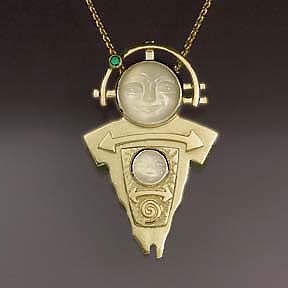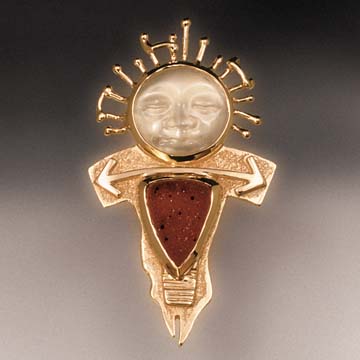 I created small multimedia sculptures with this motif.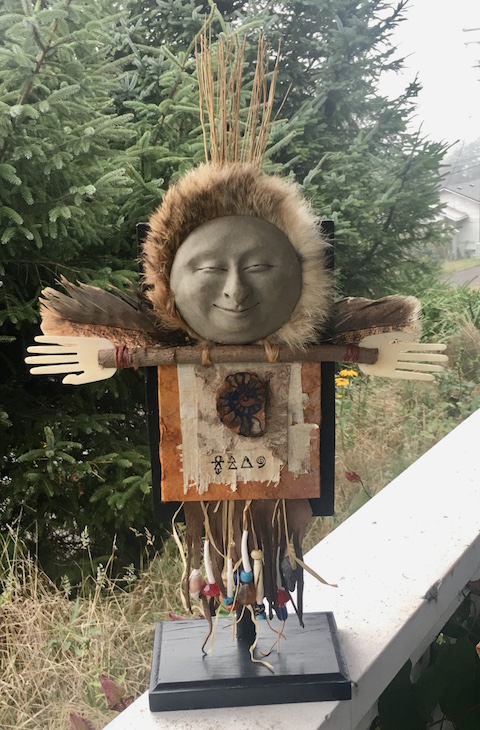 (click photo for enlargement.)
The one on the left in mixed metals was created May 2005

On the right is the latest created in 2020


After this design breakthrough, I have designed a number of these pieces, as they represent a narrative, poetic and amulet-like aspect of my jewelry. This design series will continue to evolve. So unusual and distinctive was this design that it has been included in several jewelry magazines. One of my customers was wearing one a few years ago at the Bellevue Arts and Crafts Fair where a craftsperson remarked " Is that a Michael Babinski Piece"?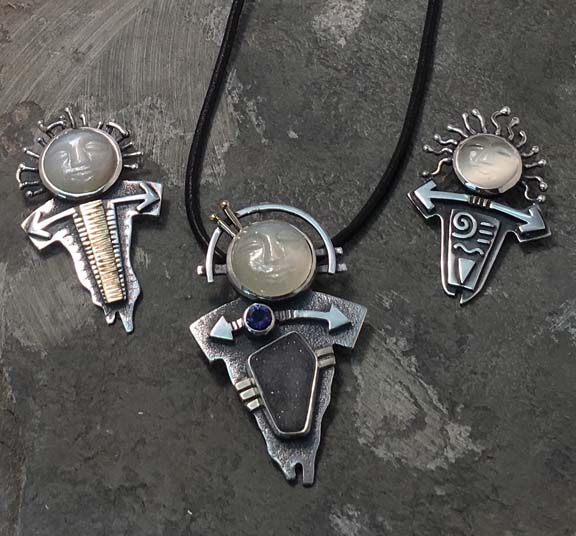 So this is how a design evolves for my work. It may be different for other designers but it is always a fascinating process.

Here are the some from from 2017, where I have branched out into Sterling Silver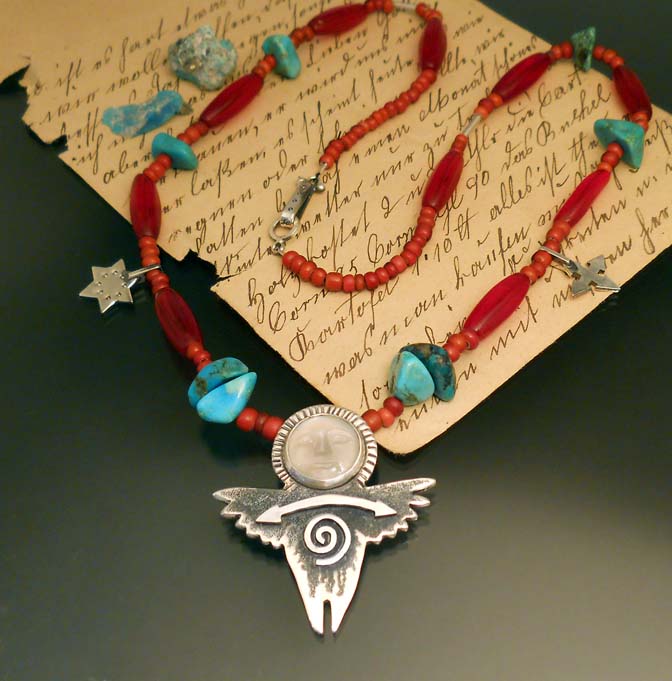 Summer 2020 brought a new evolution to the design, as I brought in a motif from Author Charles de Lint's "The Wind in his Heart" a mythic fiction novel which includes shape shifting Crow people called the Yellowrock Canyon boys. I added Wings for the first time on the "Spirit of Yellowrock Canyon" , and rediscovered my love of beads. It has a decidedly Southwestern feel, inspired by the book, and my appreciation for spending time in Tucson, for the Tucson Gem Shows.

Moonstone, Turquoise with Old Trade Beads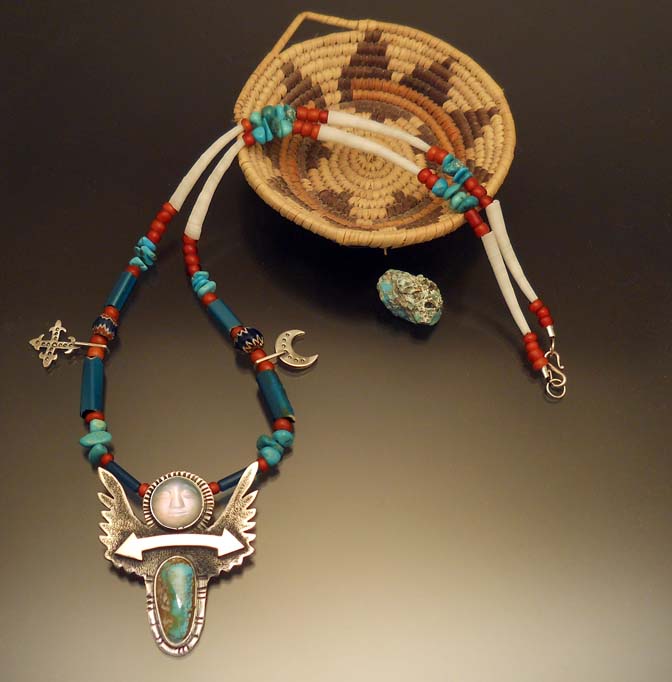 And the latest, "Angel del Corazon" late 2020


Shaman necklace featuring Sterling Silver, vintage American Turquoise and Chinese Turquoise, Moonstone carved face, Antique Trade Beads: Nueva Cadiz Glass trade beads, rare 7 layer Chevron beads, White Heart beads, 2 glass beads by Tom Andre from the 1970s, and dentalium shells.

The central turquoise is from an old cowboy belt buckle.

Michael Babinski ©1998-2021
---
---