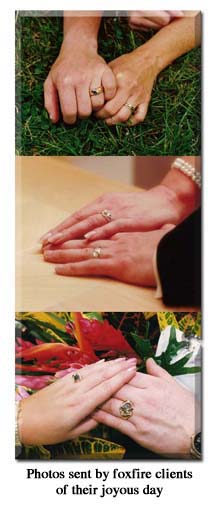 Congratulations, you are thinking of getting married. This will likely be one of the most exciting times in your life, with so much to do, so much to plan.
This should also be a very enjoyable time for both of you.
With this, Foxfire Jewelers can help. We know that choosing your rings is an important decision. After all, these rings will be with you after the cake is eaten, the dress is put away and the honeymoon is a cherished memory.
Here's the surprise: choosing rings or getting them custom designed can be fun! We will work directly with you to help you choose a diamond or colored stone, or use your heirloom stone, and create a very special ring just for you.
One of the best reasons to choose Foxfire is that we really do custom design, not customization. That means we won't just try to fit your ideas into an existing style, but can invent something entirely new for you. We have made a very wide range of rings for our clients over the years, and are always delighted to work with your ideas.
We're able to guide you through the process, educating you and answering your questions, because we're knowledgeable and enthusiastic about what we do.
If you are already married, and are choosing to have new rings, please be aware that redesigning is a very big part of what we do as well. We are happy to work with your existing gems and diamonds, and can even give you credit for your gold or platinum.
We make rings for all types of couples and relationships, and we pride ourselves with serving a diverse clientele with care, sensitivity and creativity.