the Talisman of Time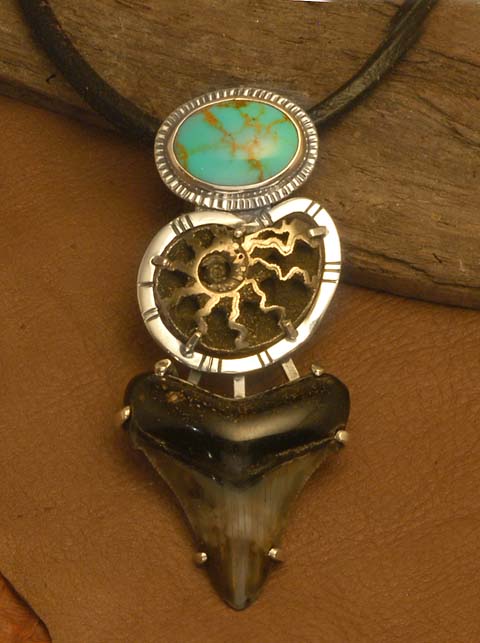 I got the fossils at the Tucson Gem Show, picked perfect ones,
Pyrite Ammonite from Russia, and Hard Rock Shark tooth fossil from Montana (polished.) The Turquoise is American possibly Gold Canyon, from Indian Jewelers Supply (now gone) in Albuquerque.

I've been hoarding the parts separately for many years, feeling like I needed to make something really special. Like writers' block.

Then I was playing with parts and teamed them up with the Turquoise and finally had the breakthrough to create this piece.

It's 3 1/4 inches tall 80mm, all handmade in Sterling Silver, rare piece.


$800.
it can be strung with beads
This does not include a chain, but they are available here:
https://foxfirejewelers.jewelershowcase.com/browse/jewelry/chain-and-cord/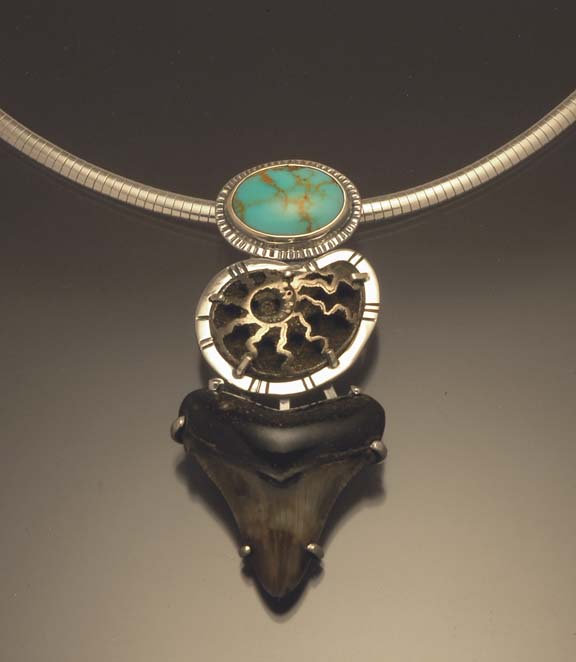 ---
We accept credit cards through Paypal, and you don't even need a Paypal account!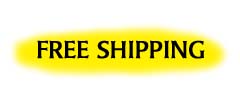 Free shipping on any order over $100. within the USA
USA: $10. Shipping and handling under $100

CANADA $15. Shipping and handling most orders , heavier or
bulky items will have additional shipping invoiced separately