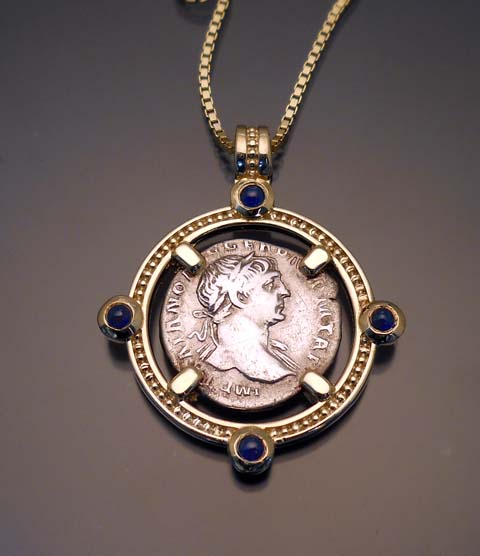 Trajan
98-117 A.D.
Coin Silver Denarius 17.5 mm
Setting 14k Yellow set with four 3 millimeter cabochon blue sapphires
pendant is 36mm tall by 30mm wide.
Does not include chain
Now $1,200.
Trajan was born in Spain, close to the modern day city of Seville, and became the first Roman emperor born outside of Italy. Remembered as a successful solder-emperor who presided over the greatest military expansion of the empire, he extended Roman territory to its greatest maximum size by the time of his death. Trajan was known for his philanthropic rule, overseeing extensive public building programs and implementing social welfare policies. These works ensured his enduring reputation as the second of what would become known as the Five Good Emperors of Rome, who presided over an era of peace and prosperity in the Mediterranean world. Several of his construction projects survive in modern times, most notably Trajan's Column, which stands in the marketplace also constructed by and named for him.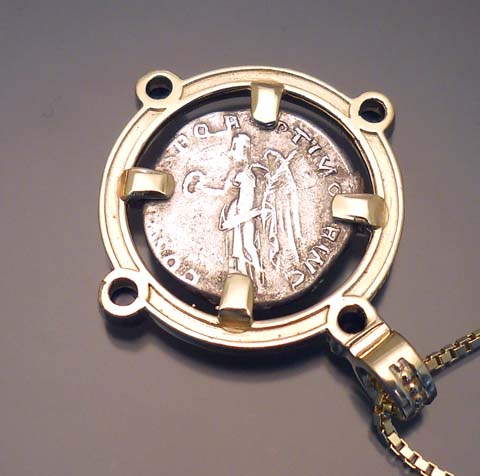 Coins are procured from legitimate antiquities dealers. They are dated through the Emperors' portraits and have been polished slightly to enhance their beauty. They are of no critical value to museums and were exported from country of discovery legally, and with any necessary permits.