Constantius II
337-361 A.D.
17 mm x 15.7 mm Bronze coin (unknown denomination)
Setting 925 Antiqued Sterling Silver 25 mm x 31 mm including bail

Front: Emperor Constantius II
Back: Two soldiers with Standards


Chain is not included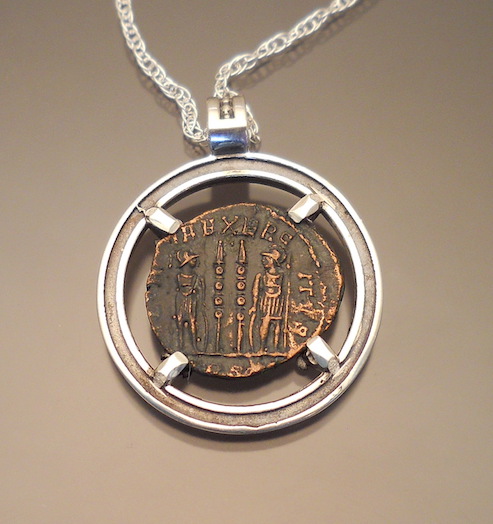 Constantius II was the third-born son of Constantine I ("The Great"), who became co-ruler with his two brothers, inheriting the Eastern third of the Roman empire, and becoming sole ruler in 350 A.D. Seen as an able but ruthless administrator, his reign saw constant warfare on the borders between the Sasanian (Persian) Empire and the Germanic peoples of central Europe, while internally the Roman empire experienced repeated civil wars and usurpation's, culminating in Constantius' overthrow by his cousin Julian, who won the acclaim of the legions in Paris in 360 A.D. after Constantius was forced back to the eastern provinces by a Persian incursion.


Coins are procured from legitimate antiquities dealers. They are dated through the Emperors' portraits and have been polished slightly to enhance their beauty. They are of no critical value to museums and were exported from country of discovery legally, and with any necessary permits.