In addition to creating jewelry for our showcases and custom designs for clients, the goldsmith at Foxfire can also assist you with fine jewelry repairs. Over the years, we have refined our jewelry repair process, constantly striving to supply the best quality and value. Our seven point quality assurance program means you can have confidence in our repair process.
1- Take in: we examine the item for wear and breakage, and recommend only those repairs that are necessary, and give you a quotation of the cost.
2- We clean the item using appropriate techniques often including ultrasonic technology and pressurized steam, then examine again for unseen wear or damage. We will call you for approval before doing any repairs beyond the scope of the quoted work.
3- Parts are obtained if needed- we use only quality parts and Plumb Solders (plumb solder is actually the same Karat as the gold, instead of sub-Karat.)
4- Our in house expert jeweler completes the repair work. We add a piece to size a ring larger instead of stretching, for example, and to build up prongs we solder on a piece of gold wire, instead of just adding solder.
5- The jewelry is polished to a brilliant finish, and is again thoroughly cleaned.
6- The stones (if any) are checked again for tightness and security.
7- Quality Control is performed to ensure a superb repair.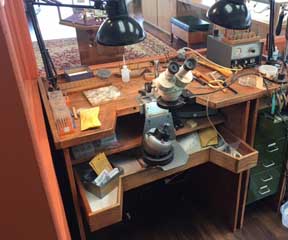 Because Foxfire's repair services are well regarded and popular we generally have around a two week turnaround time on most jobs, For those needing faster repairs, express is also available at additional cost, which puts your job in priority status, ranging from same day to three day service. Our jeweler may work overtime to complete your repair, but will never compromise the care and quality with which the job is done.
Unfortunately, not every jewelry store has this kind of dedication to doing the best possible job. So, when you care about your jewelry repair, use Foxfire's heirloom quality jewelry service.